Links
PLACES TO DIG
Fee Digs
If you are in California and are looking for places to dig for gems, here are a few of my favorite places.
Make sure to tell them, Wayne at Capistrano Mining Company sent you!
---
In Central California, Benitoite, the California State Gemstone and one of the rarest gems on earth. Benitoite in our opinion, is the worlds most beautiful gemstone. It can only be found one place on earth! You have three options for finding your Benitoite treasure. There is the Old Road Camp for Benitoite screening. There are also mine trips available. For information on the mine trips, see my Benitoite Page for Mine Updates. For more information on the screening camp, go to the Mines website here,

---
In Southern California, I recommend the Himalaya Tourmaline Mine Dig site. Beautiful Tourmaline and other great gemstones can be found at this dig site. For more information go to the mines website here,

---
This one is more for the kids than for the rockhounds.
Another Southern California must, especially for the young ones is

at the Famous

in the historic Los Rios District in San Juan Capistrano, CA.
At Miners Gulch, kids can pan for all types of minerals and fossils.
For more information, please click on the above links.
---
Montana............... If you are in Montana and are looking to dig for sapphire, I can recommend a great person to deal with.
BLAZE WHARTON (406)-227-4027, is owner of a part of the famed Eldorado Bar, outside Helena on the Missouri River.
This is Not a tourist attraction, but an actual working sapphire mine where you can dig in either virgin dirt or the old gold dredge piles. Either way, fine sapphire to be had.
---
FACETING SERVICES
*Overseas Faceting Services
For good, honest, low cost overseas faceting services and simple settings for your sapphire and tourmaline finds, we suggest you try
Tell him Wayne at Capistrano Mining Company sent you!
Blaze uses the best overseas faceters on all stones, at a discount price, but still top quality. All stones sent to him for faceting,will be re-evaluated for facet quality. He does not want to send any stone to the faceters that will not cut at least a slightly included finish stone. All stones will be faceted how the cutters evaluate each stone for the best cut, (if you want a specific cut, you will have to note specify cut and put in a separate baggy.)
After your stone have been beautifully faceted, Blaze can also set your stone in a simple setting. For prices and information go to the Blazengems website, email or call Blaze.
PLEASE EMAIL OR CALL BLAZE BEFORE SENDING YOUR STONES, SO HE CAN TRACK YOUR ORDER. HE ALWAYS RECOMMENDS INSURANCE AND TRACKING ON ITEMS SHIPPED TO HIM.
PLEASE SEND TO :
BLAZE-N-GEMS
P.O. BOX 4763
HELENA, MONTANA. 59604 USA
Expect a turn around time of approx. 60 days.
THANK YOU! SINCERELY BLAZE WHARTON (406)-227-4027
---
*Domestic Faceting Services
Here are just a few great American Cutters.
I have more contacts upon request.
John Wright, Beautiful cutting work. Good Prices. Tell him I sent you.

Another amazing American cutter.
For Beautifully Cut Stones, Contact Master Cutter Daniel Stair at


They also have some amazing cut gemstones for sale!
See the bottom of his home page for pricing information.
Make sure to contact him before sending any rough for cutting. Tell him we sent you!
If you are interested in having your Benitoite rough faceted, send us an email and we can give you the name of a few cutters who specialize in benitoite.
---
UV Lighting
For great Shortwave, Midwave, Longwave display lighting and portable battery powered lights, I have found this company to have the best available on the market.

Make sure, if you are buying a lamp for Benitoite, it can only be (SW) Shortwave UV.
---
---
Rock Art and Photography by
Kirk Kegel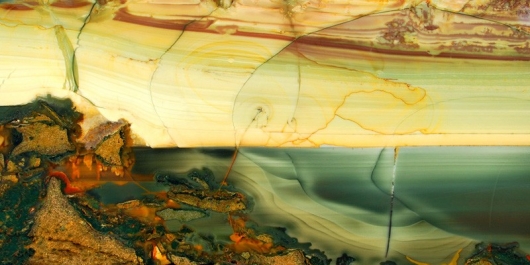 This amazing artist cuts slabs from different mineral from around the world.
He sees the true beauty within these rocks and photographs it.
For more information on his beautiful works and to see his gallery, please click the photo above.
If you purchase one of his prints, please tell him Wayne from Capistrano Mining Company sent you.
---
---